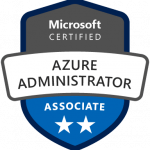 AZ-103: Azure Administrator Associate

Duración: 25 horas lectivas
DETALLES
Requisitos previos
Understanding of on-premises virtualization technologies, including: VMs, virtual networking, and virtual hard disks.
Understanding of network configuration, including TCP/IP, Domain Name System (DNS), virtual private networks (VPNs), firewalls, and encryption technologies.
Understanding of Active Directory concepts, including domains, forests, domain controllers, replication, Kerberos protocol, and Lightweight Directory Access Protocol (LDAP).
Understanding of resilience and disaster recovery, including backup and restore operations.
Objetivos

Este curso enseña a los profesionales de TI cómo administrar sus suscripciones de Azure, crear y escalar máquinas virtuales, implementar soluciones de almacenamiento, configurar redes virtuales, hacer copias de seguridad y compartir datos, conectarse a Azure y sitios locales, administrar el tráfico de red, implementar el Directorio Activo de Azure, seguro Identidades, y monitorea tu solución.
Este curso prepara para el examen AZ-103: Azure Administrator Associate.

Ubicación
Presencial en Madrid y Barcelona.
Disponibles también en Online Direct
TEMARIO
Module 1: Azure Administration
Azure Portal and Cloud Shell
Azure PowerShell and CLI
Resource Manager
ARM Templates
Module 2: Azure Virtual Machines
Virtual Machine Planning
Creating Virtual Machines
Virtual Machine Availability
Virtual Machine Extensions
Lab : Deploy and Manage Virtual Machines
Lab : Virtual Machines and Scale Sets
Module 3: Azure Storage
Storage Accounts
Azure Blobs
Azure Files
Storage Security
Lab : Implement and Manage Storage
Module 4: Virtual Networking
Virtual Networks
IP Addressing
Azure DNS
Network Security Groups
Lab : Configure Azure DNS
Module 5: Intersite Connectivity
VNet Peering
VNet-to-VNet Connections
ExpressRoute Connections
Lab : VNet Peering and Service Chaining
Module 6: Monitoring
Azure Monitor
Azure Alerts
Log Analytics
Network Watcher
Lab : Network Watcher
Module 7: Data Protection
Data Replication
File and Folder Backups
Virtual Machine Backups
Lab : Azure Site Recovery Between Regions
Module 8: Network Traffic Management
Service Endpoints and Network Routing
Azure Load Balancer
Azure Traffic Manager
Lab : Load Balancer and Traffic Manager
Module 9: Azure Active Directory
Azure Active Directory
Azure AD Connect
Azure AD Join
Lab : Implement Directory Synchronization
Module 10: Securing Identities
Multi-Factor Authentication
Azure AD Identity Protection
Self-Service Password Reset
Lab : Azure AD Identity Protection
Lab : Self-Service Password Reset
Module 11: Governance and Compliance
Subscriptions and Accounts
Role-Based Access Control (RBAC)
Users and Groups
Azure Policy
Lab : Role-Based Access Control
Lab : Governance and Compliance
Module 12: Data Services
Content Delivery Network
File Sync
Import and Export Service
Data Box
Lab : File Sync
Gadesoft Madrid
C/Clara del rey, 14
28002 Madrid, Spain
Tfno: 91 510 23 90
 info@gadesoft.com
Gadesoft Barcelona
Carrers del Madrazo, 27 - 2º 4ª
08006 Barcelona
Tfno: 93 368 0087